British holidaymakers and celebrities are among thousands caught up in chaos after wildfires tore through the French Riviera.
Dame Joan Collins was one of many forced to flee as the blaze grew ferocious on Tuesday night, tweeting it had been a "nightmare".
French authorities said swathes of the Var area of Provence had been evacuated, involving the displacement of some 10,000 people – including 3,000 campers.
Tourists were seen camped out on beaches overnight – while the glare of the morning sun was darkened by rising smoke, images posted to social media showed.
Best-selling novelist Robert Harris was also forced to leave where he was staying near Bormes-les-Mimosas and posted updates of the evacuation, which began at around 2am on Wednesday.
Local emergency services said flames had engulfed some 4,000 hectares (9,880 acres) of land in southern France, where the population swells during summer because of popular tourist resorts.
This included a separate fire in northern Corsica.
Hundreds of firefighters are battling to bring several blazes under control since they broke out on Monday, including the one which has scorched 800 hectares in Var.
The Sun's travel editor, Lisa Minot, was at the scene and said relief efforts were being affected by "very strong" winds, and that there had been "no news" from authorities.
Tourist Anna Tomlinson posted online that visitors had been "so,so, lucky" the fires did not "overwhelm" the campsite and local houses, adding the pompiers were "heroes".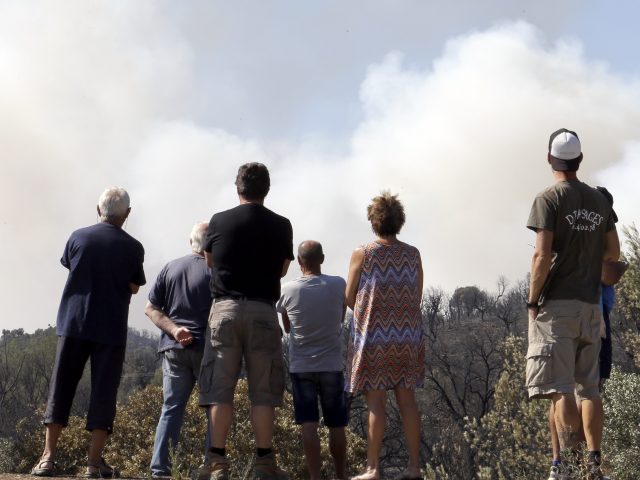 Four tracker planes and a firefighting aircraft had formed part of the emergency response after the intensity of the fire grew at around 11pm on Tuesday, a statement from the Var prefecture said.
French authorities were forced to turn to the European Union to request help as the fires continued.